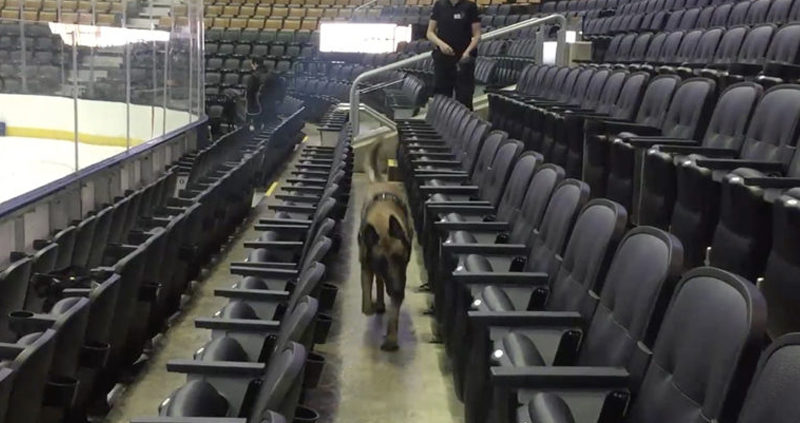 Major events now demand a comprehensive quality-orientated approach to event security and companies, more so now than ever, are turning to specialist canine detection dog companies to support them in creating a safe and secure environment for their visitors.
Detection dogs are an asset in any large crowd at events to combat the terrorist and drug users or dealers that may attend such venues. It has been proven that events are more successful with the use of detection dogs because of their ability to detect drugs and explosives.
Why use sniffer dogs?
Canine sniffer dogs smell using the same reflexes as humans but are better than us at detecting odours. They have the ability to separate individual smells and more importantly when there are dozens of other scents around. Certain breeds of Canines can contain over three hundred million receptors in their noses compared to about thirty million for humans.
They are extremely versatile, efficient and effective at what they do, which makes them an important asset to any event.
Our detection dogs support all types of events where there are security and infrastructure challenges. We work along the lines at the entrances and amongst crowds to detect visitors who have come in contact with any illegal substances, making it a safer place for everyone.
We can provide sniffer dogs for all types of events including:
Festivals
Concerts
Manifestations sportives
Lancement de produits
Private parties
https://www.diag-nose.com/wp-content/uploads/2019/03/news-large-crowds-Feature.jpg
600
800
admin
https://www.diag-nose.com/wp-content/uploads/2017/10/DiagNose-Logo-300px-1-300x164.png
admin
2017-10-06 13:20:16
2019-03-06 10:53:15
Detection Dogs for events